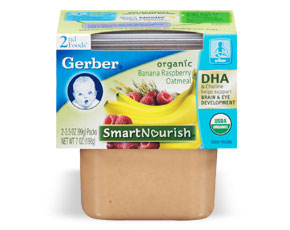 I admit it. I am one of those people who makes their own baby food. I actually like doing it too. However, when I am traveling it isn't always easy to pack a lot of frozen, need to be refrigerated baby food. So I buy jarred and I like it to be organic too. Gerber sent me their latest product-
SmartNourish
(stage 2) and it was perfect timing. My littlest one is just venturing into mixed foods.
Gerber
SmartNourish baby food comes in regular or organic. It is loaded with DHA & Choline to help support brain & eye development. Has Vitamins C & E included and no added sugar, salt, starch, artificial colors or flavors. Yes! Both the organic and non-organic come in packs of two and in those nice stackable boxes. I don't love the plastic but that is just the "green" in me. I re-use my glass baby food jars for the food I make myself. However, the boxes are great for storing and packing in a diaper bag.
The texture of SmartNourish is like any other stage two baby food. It is smooth and not watery. We tried the Apple-Strawberry and Peaches with Oatmeal. Both of them my daughter liked. There was no artificial or funny smell that some foods have either. Gerber is a trusted brand and I have never had any problems with them. I like them and I am glad that they have added this new line to their already great list of food items for babies.
SmartNourish baby foods are also available in Stage 1 and come in flavors like Macaroni and Cheese with Vegetables, Spring Garden Vegetables with Brown Rice, Pear-Strawberry Granola and many more. You can buy them at your local grocer now.
MPR Rating: Four Stars.
Disclaimer- MPR was not paid for this post. Products received are for review and testing purposes only. Opinions are MPR's only.
*Image from jenspends.com