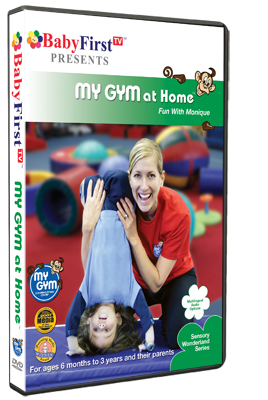 Monique Vranesh, the creator of
Baby's First Presents
- My Gym at Home (fun with Monique), is also the mother of two young daughters. She is actively involved in their physical fitness and now she invites you and your baby to play together, have fun and discover the many advantages of a regular exercise routine. The exercises performed on the DVD are designed to assist in the formation and development of your child's motor skills,agility, flexibility and social skills.
Based on the programs at My Gym Children's Fitness Centers
this DVD
($14.95, 45 min.) gives a great message to parents and kids about just how important fitness is in our lives. It doesn't have to require a membership or fancy equipment either. You just have to want to get started and make it a family affair.
I am giving away a copy of
'My Gym at Home'
to one lucky reader too! Just provide a comment for this post about why you would love this DVD in your home and a winner will be chosen at random on June 21, 2010.