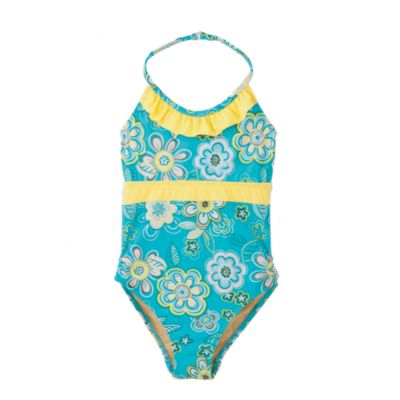 We have a lot of
Company Kids
bedding in our house and I love the storage bins they have as well. Clothing for the kids is a whole other venue and one we hadn't explored until recently when they sent us a yellow and turquoise floral
girls swimsuit
($29).
The stylish suit has ruched details and a ruffled neckline with a matching yellow band accent. It's made of nylon/spandex with a nylon lining and a 50+ UV protection. We received a size four for my four year-old daughter and the fit is accurate. I will note that she is long and lean with a long torso. This suits fits her well in length and isn't quite as tight as her other size four suits are in length or baggy around the middle like another one that she owns. It doesn't ride up on her either, which I noticed right away and appreciate. She finds it comfortable, cute and easy to put on herself. It's not too thick so it dries quickly too. Overall, I am pleased with this bathing suit. It is sized correctly and wears well. The design isn't too typical of many of the little girl bathing suits I have seen this season and that is an added bonus.
*This suit is now on sale for $6.99. Get it while supplies last! Many
other styles
are available for both girls and boys.
MPR Rating: Four Stars.
Disclaimer: MPR was not paid for this post. All products were given for review and testing purposes only. Opinions are MPR's alone.