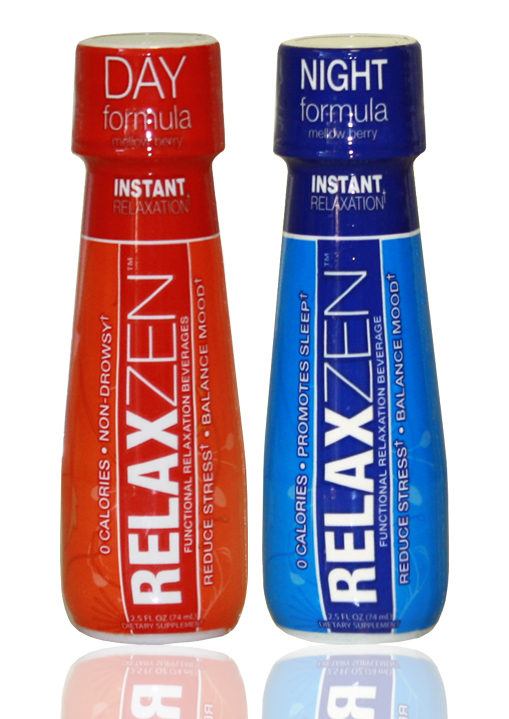 RelaxZen is an interesting product. It is one of those you might seen hanging out on the counter at your local conveinence store or gas station or your gym. In fact, it might be the only place you can find it and that's too bad. Originally I was reluctant to try either of the RelaxZen shots. I kept putting it off. I don't do the energy drinks so why one of these shots? Then I had a series of really scattered, bad days. I looked at the
RelaxZen Day
formula (2.5) that said "Calm and Focused" on the label and thought- "Zero calories. Why not?"
A berry-flavored shot of liquid was all I needed and about two hours later I noticed that instead of skipping from one task to the next I was completing my tasks without feeling scattered. Weird, I thought. Can it be that this shot worked? Loaded with L-Theanine (amino acid in green tea leaves that creates alpha brain waves of relaxation) L-Threonine, Vitamin B12 to support energy and your immune system, GABA for facilitating focus, Vitamin B6, Passion Flower and Acai extract for added relaxation of the body and mind. Whatever it is loaded with it worked. For about eight hours I ran errands, cleaned my house and did work all while feeling unhurried, flustered or scattered. I just did my tasks and actually felt calm. I wanted more!
Two days later I opted to try the
RelaxZen Night
(2.5 oz) to induce sleep. Same berry flavored shot and I got into bed. It had the opposite effect on me. I was a live wire. Awake on and off all night. I woke up the next day frustrated and annoyed. Truthfully, Nyquil has the same effect on me as do other supposed sleep aids so I am not surprised this didn't work for me. If I had more than one sample I would have had someone else try it to let me know their results.
In fact, if I had more than one sample I would have passed it around asking others if the RelaxZen Day was a fluke. Instead I just had that one sample and one calm day.
All the RelaxZen formulas- day, night, sport and flight
can be found
in bulk online at
Amazon.com
($15), Smoothie King, Rite Aids and other food and drug stores nationwide.
MPR Rating: Four Stars- Day formula. Two Stars- Night formula.
Disclaimer: MPR was not paid for this post. Products received are for review purposes only. Opinions are MPR's only.
*Image from prweb.com