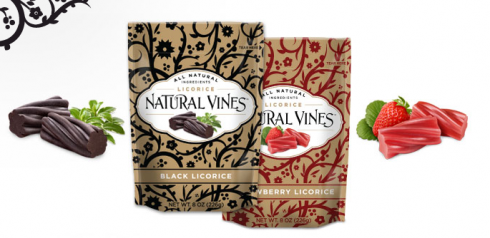 My husband hates licorice, both the strawberry and the black versions. I love them, especially the black. When
Natural Vines
asked me if I would be interested in reviewing their all natural strawberry and black licorice I jumped at the opportunity. Then something interesting happened in our home. The bag of strawberry licorice disappeared. Who ate it all? My husband, that's who.
When I tested this product out I figured that I would try it out with my kids. They would like it because it is candy and I would see how it really tasted. I offered some to my mother and she made a face. "I don't like artificial things and I hate red licorice." She tried the black and loved how simple the taste was with no after taste or odd texture. She eyed the strawberry bag and gave it a whirl. She loved it! "It actually tastes like strawberries and not just red junk." So true. My husband overheard this and tasted the strawberry as well. He was so surprised he couldn't stop nibbling on the little red, chewy pieces.
Natural Vines licorice
has now converted two people over strawberry licorice lovers, but only if it is Natural Vines.
As for me, I loved them both equally. The licorice tastes fresh and isn't hard. I found them irresistible and highly recommend them. Add in the fact that
Natural Vines licorice
has no artificial flavors, dyes or preservatives, no high fructose corn syrup and is vegan, kosher and vegetarian, I was sold. The resealable, pretty bag is just an added bonus. Available at the
candycabinet.com
and
Amazon
.
MPR Rating: Five Stars.
Disclaimer: MPR was not paid for this post. Products received were for testing and review purposes only. Opinions are MPR's only.