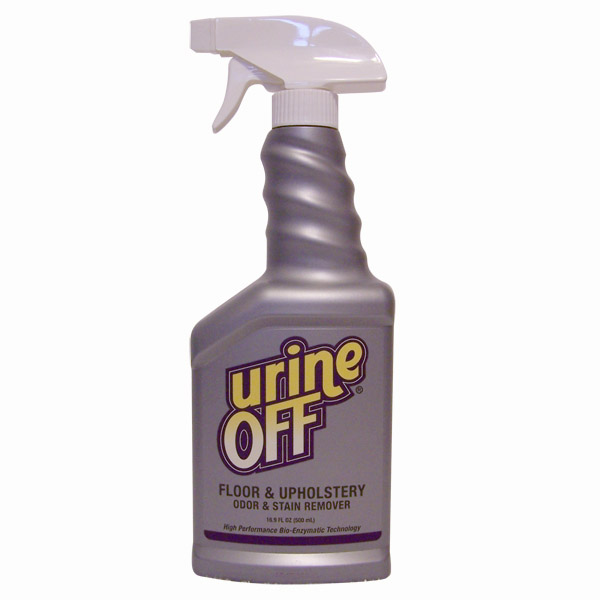 I'm not really sure you can classify this as a 'Fun Find' so to speak but it is quite the find.
Urine Off
(UO) is a stain and odor remover that works well on you guessed it, urine. Specifically pet stains but if you have kids you need this product as well. Here's
how it works
- UO works in combination with a specially adapted microorganisms (bacteria) that actually "eats" the uric acid crystals (the culprit in those returning stains and odors), in addition to removing the other components of urine. Removing these crystals is what distinguishes Urine Off® from other products.
Urine Off
comes with a handy black light (you will see a dull yellow glow) to see older stains or ones you might have missed and has a citrus scent that evaporates after use. You can use it on carpet, furniture, hardwood floors, cat litter pans, cars and so much more. Just spray it on (without other cleaners) and allow it to air dry. For larger stains I had to reapply the UO. If the area I was spraying was really absorbent it needed more cleaner, but it wasn't a lot of product that needed to be applied. I found UO to be particularly handy after we spent a weekend away. Our pet sitter came in to take care of our dog but even with a dog door the dog frequently pees on a particular stairway landing. I think its an act of rebellion and feeling left behind. I find myself constantly cleaning the carpet in this one spot. Urine Off and its trusty black light helped in finding old stains and really getting to the bottom of the cleaning job. It wasn't hard to use the light or the product and now my stairs are clean again.
Urine Off ($4.99 and up) comes in wipe, spray or gallon form. You can buy various quantities and for specific purposes like cats,
dogs
, small animals and more. It contains no bleach, peroxide or alcohol. You can buy it online at the
webstore
or at vet offices and other fine stores.
MPR Rating: Four Stars.
Disclaimer: MPR was not paid for this post. All product received were for review and testing purposes only. Opinions are MPR's own.